WACO Christmas Toy Drive 2022
On Thursday December 8, 2022, Woodfield Area Children's Organization held its annual Christmas Toy Drive at Chandler's Chophouse, Grille & Banquets 401 North Roselle Road, Schaumburg, IL.
Patrick Dealer Group has been a proud supporter of WACO and this year our President, Hanley Dawson IV was honored to receive a plaque presented by WACO President Bill Benedict, in appreciation of our support and partnership with their food and toy drive over the past 8 years. Patrick Dealer Group's 2022 toy donation will support the Schaumburg Community Consolidated School District 54. 
Below is a photo from our delivery on December 14, 2022.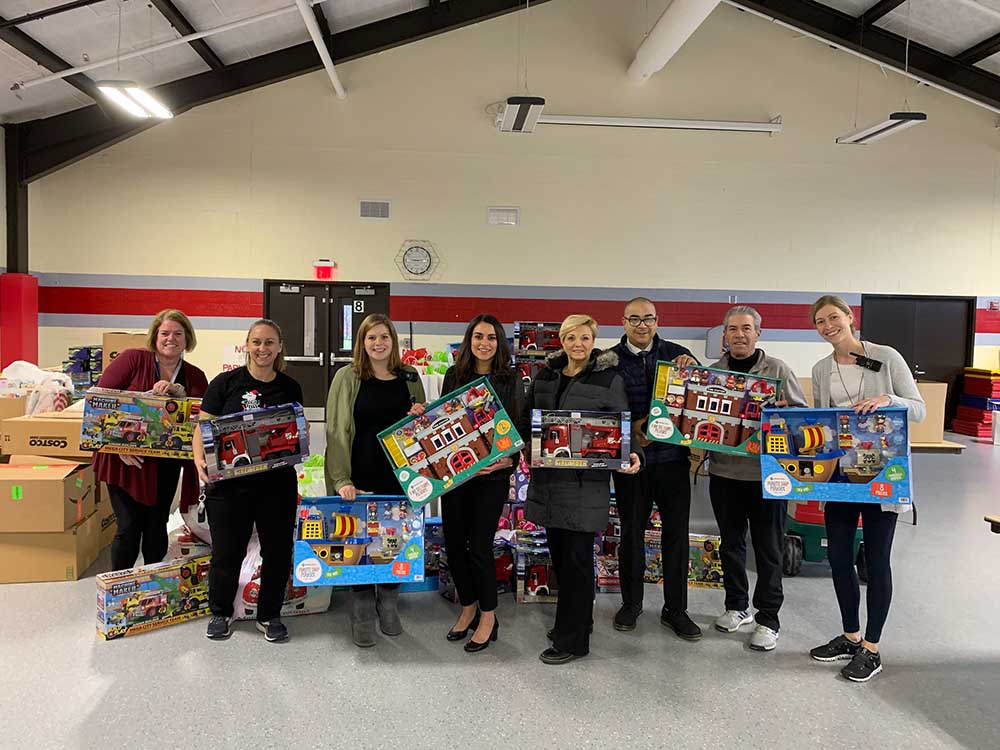 Here is the video of Mr. Hanley Dawson IV receiving the plaque from WACO. 
---
The Patrick Dealer group is proud to be a sponsor of 
The Woodfield Area Children's Organization (W.A.C.O.) 
W.A.C.O. is a non-profit charity that provides assistance to needy children through various financial support initiatives, as well as through our volunteers. W.A.C.O. is a 100% volunteer organization, with no paid positions. A full 97% of all of all proceeds go to helping children in need.
Through a partnership between concerned individuals, a number of suburban businesses and corporations, and numerous municipalities, W.A.C.O. serves several community-action agencies including:
Partnerships:
• The Children's Advocacy Center of North & NW Cook County (care for abused children)
• CAFE (Children and Family Education)
• Children's Home + Aid + Family Center (subsidized daycare for 110 children)
• ECDEC (Early Childhood Development Enrichment Center)
• FIND PI (Family Involvement Nurturing Development & Prevention Initiative)
• Two Rivers Head Start - Elgin
• U.S. Marine Corps Reserves "Toys for Tots"
As part of their assistance program, W.A.C.O. collects and delivers a wide variety of items to the above groups including:
• Food
• Clothing
• Books
• School Supplies
• Furniture
• Bedding
• Toys
• Games
• Appliances
W.A.C.O.'s mission is fulfilled primarily through these events:
• End of Winter Coat Drive
• Partner Bowling
• Read to Succeed Children's Book Drive
• Summer Reading Program
• Partner Softball
• Soap, Shampoo & School Supplies Drive
• Coats for Kids Program
• Thanksgiving Food Drive
• Christmas Shopping Tours
• Toys for Tots Toy Collection
• Bill Kelly Scholarship
• John Bestman Scholarship
• Michael O'Malley Scholarship
For more information please visit: Woodfield Area Children's Organization
---
Woodfield Area Children's Organization - Partnering with Pallets Food Drive
November 19, 2021
In 2020, Patrick Cars participated in 
WACO's
 2020 Thanksgiving Food Drive, which ultimately provided a holiday meal for over 1,000 family members of the agencies they serve. This year, WACO's 2021 Thanksgiving Food Drive is being held on Friday, November 19, 2021. Patrick Cars is proud to announce that we will be sponsoring 5 Pallet No. 3's which will provide food for 225 families during the holiday season! Thank you to the Woodfield Area Children's Organization for allowing us to sponsor their amazing organization that helps families throughout our community.
December 2021 Patrick Dealer Group Toy Donations

Here's a picture with Carrie Azab from SD54 Early Learning