Patrick Dealer Group History
The Dawson family is celebrating 117 years in the automotive industry in 2021.  It was 1904 in Detroit when Hanley Dawson IV's great grandfather made the acquaintance of the legendary Henry Ford.  Ford's automobile manufacturing plant was located across the street from the bank where he worked. His great grandfather offered to sell used cars returned to the Ford plant and eventually was granted the opportunity to sell new cars off the assembly line.
In 1907, his great grandfather was awarded the first new Ford franchise in Detroit, in the entire Midwest for that matter. The photo below is of him standing outside of that first dealership more than a century ago and it holds a prominent place on his office wall to this day.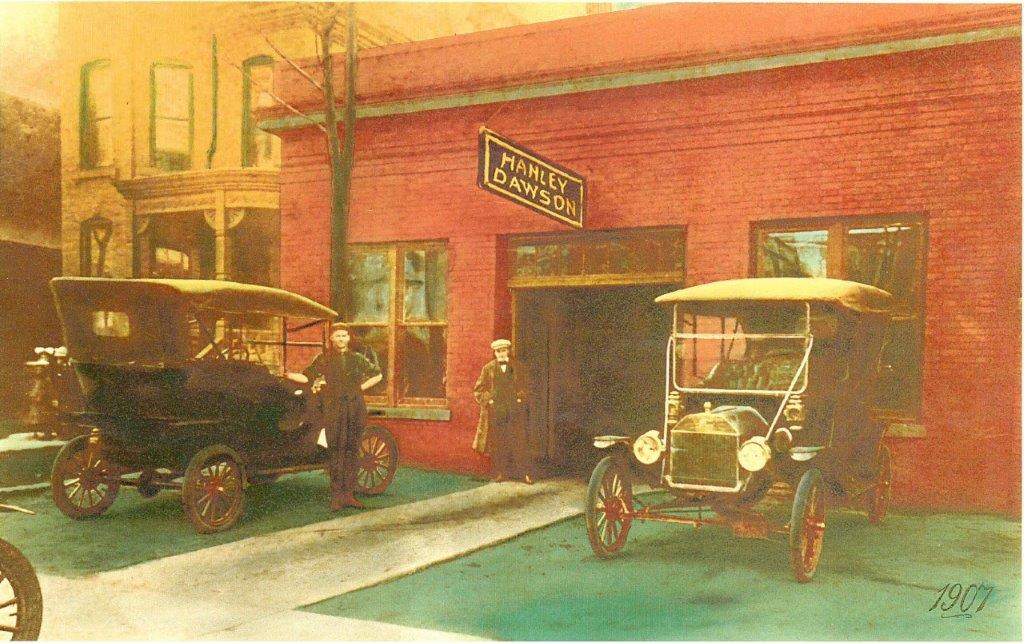 In 1951, Hanley Dawson Jr. took over the dealership from his father.  Twenty years later, in 1971, the family business moved to Chicago on the corner of Rush and Ontario Streets when Dawson Jr. was awarded the first and only Chicago Cadillac factory retail branch operation. Hanley Dawson Jr. and his son, Hanley Dawson III, ran that business as Hanley Dawson Cadillac until the early 1990's.
In 1977, Hanley Dawson III set out on his own to establish the Patrick Cadillac dealership that we have today in Schaumburg. Named after his youngest son Patrick, the Patrick Dealer Group was born.  The first expansion to the operation was with the addition of the BMW and Saab franchises in 1981. Of the brands in our group today, Volvo was added in 1991, MINI Cooper in 2001, Jaguar in 2002, Hyundai in 2005, Land Rover 2011, and Genesis in 2019.  
Aside from our brand franchises the Patrick Dealer Group also has 2 state of the art certified collision centers (BMW, Volvo, Jaguar and Land Rover) with over 60 years of combined experience in auto body and collision repair to restore your vehicle to its original beauty. The business has changed over the years, but the rich family heritage and tradition remain as cherished as ever. "Patrick" has been a family-owned and operated business for four generations, embodying a spirit of family that extends to all our customer relationships throughout our dealerships in the Chicagoland area.
Why shop or service with us? 
Each of our locations offer a Fantastic Car-Buying Experience and each of our store are conveniently located in right by Woodfield Mall in Schaumburg, IL and near Fox Valley Mall in Naperville, IL. We understand if shopping for a car or servicing your current vehicle is way, way down at the bottom of your list of fun things to do and our entire group is constantly changing to help make this easier for you.  
Let's look first at our awesome inventory. Each of our managers spend hours finding the perfect inventory for you by researching, watching trends, reviewing market reports and work closely with our manufactures.  Buying a car should be not only a pleasurable activity, but a fun one. We do all we can to make sure that's your experience here.
Our friendly and helpful team members will be happy to help you throughout the process. Our professional sales staff really listens to your wants and needs. For us, it isn't just about making a sale, but creating a positive relationship that will hopefully have a long-lasting future. Learn how our
Patrick Direct
buying process can save time and money. 
If you need to service your vehicle, our factory trained advisors and technicians know your vehicle inside and out.  Why not service with experience and with someone you can trust.  A member of our Patrick Direct Service team can help schedule your appointment with a time convenient for you.
To achieve top performance, your vehicle needs the best genuine parts available. That's why our team recommends using official genuine OEM parts and accessories. We have a selection of parts that are built to exact factory specs and live up to our luxury brand's expectations for quality and craftsmanship. Whether you're replacing a worn out component or simply enhancing your luxury vehicle's looks and practicality with accessories, Patrick Cars can help!
When your car buying an service experience is that great, it's a Patrick Thing!
Taking Care of You Every Day, That's The Patrick Promise!