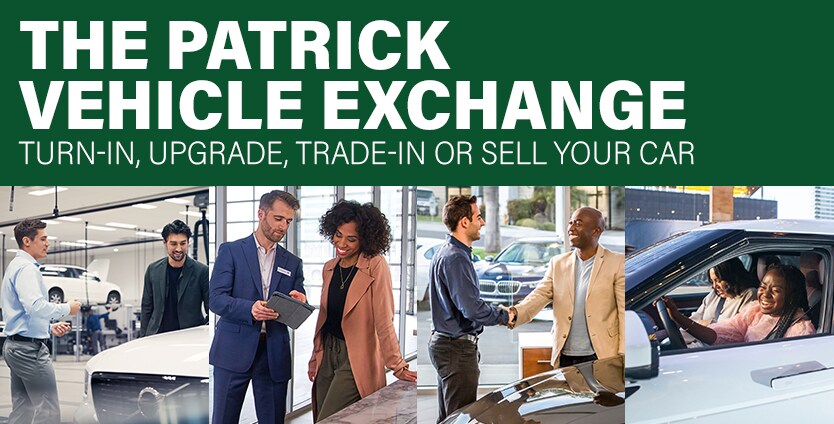 Did You Know That The Patrick Vehicle Exchange...
Has the largest lease return centers in Schaumburg and Naperville, IL?
Can upgrade your current car for a newer model and help keep your monthly payment the same or possibly even less?
Makes it quick and easy for you to trade in your current car for a New or Pre-Owned Model?
Will buy your car even if you don't buy from us!

Whether your lease is coming to an end, your current car is giving you a hole in your pocket on repairs or you're getting the itch to find something new, we have the solutions for you!
Let Patrick Dealer Group help you in your quest for something newer.  We understand sometimes decision making isn't easy especially with information overload, so why not let our client advisors along with our management staff work with you to provide you with some simple options. 
If you'd like to start your research today, you can simply click below to learn more and when you're ready, call us directly at 888-819-6958 or submit an inquiry.
Sales Hours
Monday

9:00AM - 9:00PM

Tuesday

9:00AM - 9:00PM

Wednesday

9:00AM - 9:00PM

Thursday

9:00AM - 9:00PM

Friday

9:00AM - 9:00PM

Saturday

9:00AM - 6:00PM

Sunday

Closed
See All Department Hours
Dealership Hours
Monday

9:00AM - 9:00PM

Tuesday

9:00AM - 9:00PM

Wednesday

9:00AM - 9:00PM

Thursday

9:00AM - 9:00PM

Friday

9:00AM - 9:00PM

Saturday

9:00AM - 6:00PM

Sunday

Closed
Parts Dept. Hours
Monday

7:30AM - 5:00PM

Tuesday

7:30AM - 5:00PM

Wednesday

7:30AM - 5:00PM

Thursday

7:30AM - 5:00PM

Friday

7:30AM - 5:00PM

Saturday

8:00AM - 4:00PM

Sunday

Closed
Service Dept. Hours
Monday

7:30AM - 6:30PM

Tuesday

7:30AM - 6:30PM

Wednesday

7:30AM - 6:30PM

Thursday

7:30AM - 6:30PM

Friday

7:30AM - 6:30PM

Saturday

8:00AM - 5:00PM

Sunday

Closed
Want to start shopping?  Choose your store below
Make an Inquiry
* Indicates a required field